5052 Aluminum Foil for Foil Tray and Electronics
Temper: O,H14,H16,H18,H22,H24
Application: for food packaging, foil tray, electronics,etc.
What is 5052 aluminum foil
5052 aluminum foil belongs to Al-Mg alloy, having high strength, high fatigue strength, high rust and corrosion resistance, good weldability, poor machinability, and polishability. It can be used for food packaging, foil tray, electronics,etc.
Aluminum Alloys 5052 foil offers a wide range of design opportunities to benefit consumer electronics manufacturers. These lightweight materials enable manufacturers to trim precious ounces, coupled with high strength to make smaller, thinner components feasible.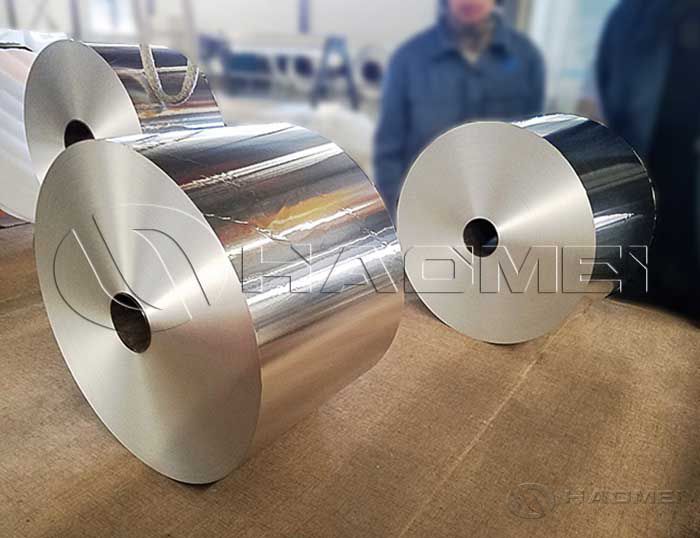 Specification
| | | | | |
| --- | --- | --- | --- | --- |
| Alloy | Temper | Thickness(mm) | Width(mm) | Application |
| 5052 | O,H14,H16,H18,H22,H24 | 0.03-0.2 | 100-1700 | for food packaging, foil tray, electronics,etc. |
Chemical composition

Alloy

Cr

Cu

Fe

Mg

Mn

Si

Ti

Zn

Other

total

Al

3003

0.15-0.35%

0.40%

0.40%

2.2-2.8%

0.10%

0.25%

-

0.10%

0.15%

Remainder
Mechanical properties
| | | |
| --- | --- | --- |
| Tensile strength | Yield strength | Elongation |
| (28-42)x1000 psi | (13-37)x1000 psi | 7-25 |
Features
1. The tensile strength is σb (MPa) 173 ~ 244, and the conditional yield strength is σ0.2 (MPa) ≥70.
2. 5052 aluminum foil has good mechanical properties, high explosion resistance, good puncture resistance and tear resistance.
3. It is of good corrosion resistance, excellent weldability, good cold workability, and medium strength.
4. It is clean, of less pinholes and good shape.
5. It is light and recyclable, a best choice for environmentally friendly tableware.
Application
1. Among the different alloys of food container aluminum foils like 8011, 3003 and 3004, 5052 aluminum fol price is a little higher, but its performance is also better.
2. It is often used as the honeycomb core. It has low density and light weight, which can greatly reduce the construction load and cost. The specific strength per unit weight is high, the specific stiffness is high and it is not easy to deform. The surface has a very high flatness, and the seismic performance is good.
3. Electronics products: 5052 aluminum foil is right for various types of power electronic capacitor conductive electrodes, electronic components signal shielding, electronic power cable signal shielding, PCB conductive electrodes.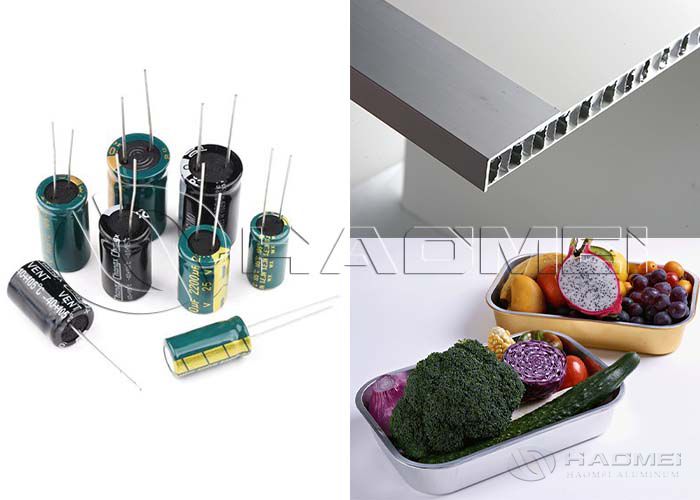 Packaging and Shipping
Haomei Aluminum has 3 packaging workshops for coating packaging and aluminum foil jumbo roll packaging, which can meet the packaging task of up to 2,000 tons per day. There are various packaging modes vertical wooden trays, horizontal wooden trays, pyramid wooden trays,etc.,and there are more customized types such as iron boxes and carton boxes.
The packaging design of Haomei Aluminum not only takes into account the transportation requirements, but also perfectly solves the quality stability requirements during transportation. All our packages are composed of two parts: inner packaging and outer packaging. The inner packaging relies on plastic diaphragms, anti-oxidation bags, and foam pads.