House Kitchen Aluminum Foil
Publish:
Apr 12, 2022
Modify:
Apr 12, 2022
Author:
Dolly
From:
Haomei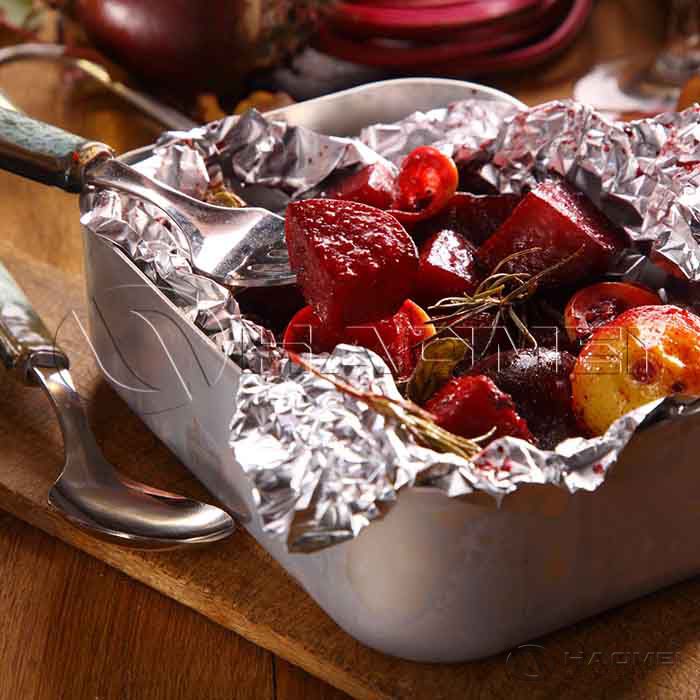 Haomei Aluminum offer rich alloys of household aluminum foil, widely used in cooking, freezing, preservation, baking and other industries. Learn more.
Household aluminum foil
Household aluminum foil is widely used in cooking, freezing, preservation, baking and other industries. This disposable aluminum foil is easy to use, safe, hygienic, odorless and leak-free. It is widely used in the following fields: home kitchens, civil aviation enterprises and service industries.
The household kitchen aluminum foil can be used for the following occasions: airline catering, western-style pastry baking, barbecue, family gatherings, etc. In addition, aluminum foil is of high recycling and reuse rate, that is, it protects the environment and reduces resource waste, which has good social benefits.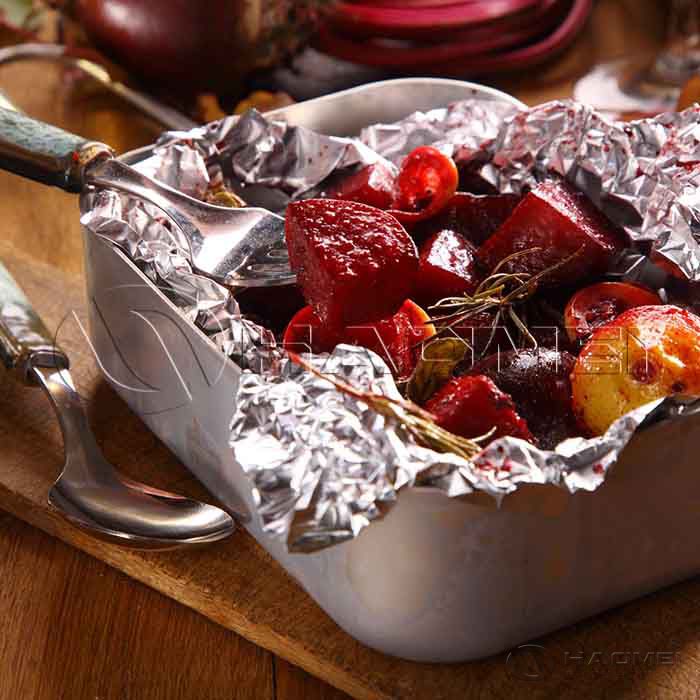 Different uses
Cooking aluminum foil: It can be directly wrapped on the food, which can keep the food from being deformed, and avoid the water loss of fish, vegetables, fruits, and dishes, and prevent the taste from leaking or mixing. Since aluminum foil has good and uniform thermal conductivity and heating effect, it can be used in ovens, steamers, etc. to heat directly on the original packaging.
Bbq aluminum foil: In addition to enhancing heat conduction and speeding up the cooking of food, it is often used for barbecue. For meat with uneven thickness (such as chicken legs), first lay a layer of aluminum foil on the baking tray to conduct heat, and then wrap it and bake it for more even heating.
Aluminum foil in freezer: In addition to heat conduction, aluminum foil can also speed up the freezing efficiency, such as wrapping the freshly bought raw meat and then refrigerating it, which can quickly preserve the freshness.
The leftover vegetables are wrapped in aluminum foil, which is more effective in preventing moisture loss and preventing the odor of ingredients from contaminating the refrigerator. In addition, cream and cheese can be wrapped by aluminum foil paper to prevent oxidation and hardening.
Alloys
| | |
| --- | --- |
| Alloys | 1235, 3003, 8011, 8006, 3004, 1060, 1070, etc. |
| Temper | O, H14, H16, H18, H19, H24 |
| Thickness(mm) | 0.018-0.5 |
| Width(mm) | 100-1700 |
| Application | BBQ, cooking, freezing, baking |