3004 Aluminum Foil for Container and Electronics
Temper: O,H14,H16,H18,H19,H22,H24,H26,H28
Application: foil container, food packaging, honeycomb core, air conditioner aluminum foil, etc
What is 3004 aluminum
3004 aluminum foil is a kind of Al-Mn alloy. With the strengthening element magnesium, it is of high hardness, good load-bearing, good formability, good solubility, excellent corrosion resistance and better stamping effect than 3003 aluminum foil. It is widely used in foil container, food packaging, honeycomb core, air conditioner aluminum foil, etc.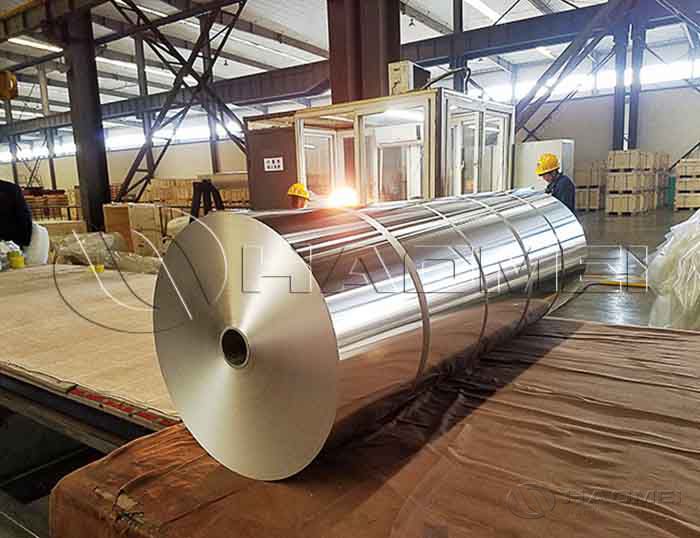 Specification
| | |
| --- | --- |
| Alloy | 3004 |
| Temper | F,O,H14,H16,H18,H19,H22,H24,H26,H28 |
| Thickness(mm) | 0.018-0.2 |
| Width | 100-1700 |
| Application | foil container, food packaging, honeycomb core, air conditioner aluminum foil, etc. |
Composition of 3004 aluminum alloy
Alloy

Si

Fe

Cu

Mn

Mg

Cr

Zn

Ti

Others

Each

Others

Total

Al

3004

0.30

0.7

0.25

1.0-1.5

0.8-1.3

-

0.25

0.25

0.05

0.15

Remainder
Mechanical properties
| | |
| --- | --- |
| Alloy | 3004 |
| Tensile strength | 215 MPa |
| Yield strength | 170 MPa |
| Shear strength | 115 MPa |
| Fatigue strength | 105 MPa |
| Elastic modulus | 70-80 GPa |
| Poisson's ratio | 0.33 |
| Elongation | 10% |
| Hardness | 52 |
Applications
1. Foil Container: The aluminum foil container made by Haomei 3004 aluminum foil is of higher strength than 3003 aluminum foil. 3004 alu foil has both the price advantage of 8011 and the strength advantage of 3003 aluminum foil.
3004 foil container has a neat appearance and good thermal conductivity. It can be directly heated on the original packaging with kitchen utensils such as ovens, microwave ovens, and steamers.
2. Honeycomb aluminum foil: The aluminum honeycomb core is a hexagonal aluminum honeycomb structure. It has good mechanical properties, good durability and thermal conductivity. The aluminum honeycomb core material adopts 3004h18 or 3004h19 aluminum foil. 3004 aluminum foil has high flatness, good shape, high strength and is not easy to deform after processing.
3. Air conditioner foil: The common aircon aluminum foil has 1100/3003/3004/8011 alloy, etc. 3004 aluminium foil for air conditioner heat exchanger fin material belongs to Al-Mn alloy, which has good corrosion resistance, excellent formability, high strength and elongation, etc., and meets the mechanical performance requirements of air-conditioning foil.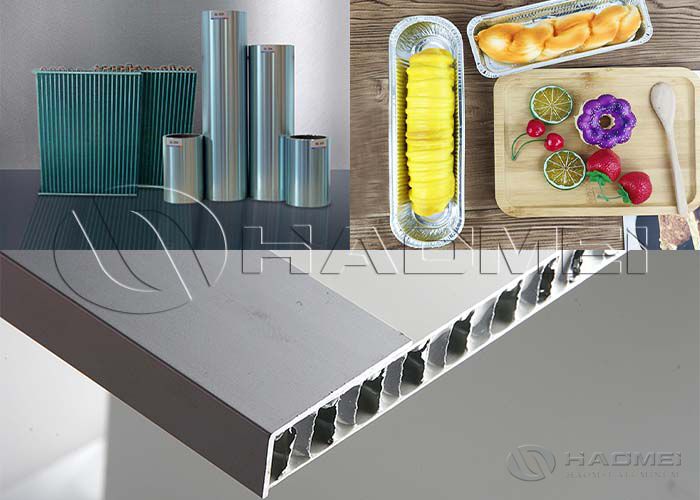 Why choose Haomei 3004 aluminium
1. Good quality. Haomei Aluminum has a complete production line, advanced equipment and skilled craftsmanship, ensuring the 3004 aluminum foil's high strength, good shape and excellent stamping effect.
2. Short delivery. Normal orders are guaranteed within 25 days, some urgent orders can be delivered within 10-15 days, and special urgent orders can be delivered within 7-10 days. In the environment of drastic fluctuations in aluminum prices in recent years, we provide customers with assistance in resisting aluminum price risks and satisfying customers with high production efficiency.
3. Good reputation. Under the support of the complete industrial chain, the processing cost of 3004 aluminum alloy will be the same as that of 8011 aluminum alloy, and lower than that of 3003 aluminum alloy.
About Haomei Aluminum
Haomei Aluminum has the most advanced cold rolling, roll casting and coating production processes in the aluminum processing industry and the first domestic Hazlett (continuous casting and rolling) production line. In addition, it has more than 200 sets of production equipment with first-class configuration and complete chain.
The company's main core production, testing equipment and all electrical and control systems are imported from Germany, the United States, Italy, etc., and the degree of automation and intelligence is leading the industry.