8006 Aluminium Foil for Container
Temper: H14,H16,H18,H19,H22,H24,H26,H28
Application: Foil tray, foil container, food packaging
What is 8006 aluminium foil
Aluminum alloy 8006 is a wrought aluminum. It possesses good corrosion resistance and high strength. 8006 aluminum foil is a special container foil. Haomei 8006 aluminum foil is hot-rolled, and its tensile strength is between 123-135.
8006 aluminum foil is of brushing water Grade A and clean surface. It is suitable for wrinkle-free foil tray, with no wrinkle on the edge after stamping and forming, and the appearance is flat and smooth.
Specification
| | |
| --- | --- |
| Alloy | 8006 |
| Temper | O,H14,H16,H18,H19,H22,H24,H26,H28 |
| Thickness(mm) | 0.006-0.2 |
| Width(mm) | 100-1700 |
| Application | Foil tray, foil container, food packaging |
Chemical composition
Alloy

Al

Si

Fe

Cu

Mn

Mg

Cr

Zn

Ti

Other

(Each)

Other

(Total)

8006

Remainder

0.04

1.2-2.0

0.03

0.3-1.0

0.10

-

0.10

-

0.05

0.15
Other properties
| | | |
| --- | --- | --- |
| Density | Elastic modulus | Thermal conductivity |
| 2.74 g/cm3 | 70Mpa | 190-210 W/mk |
Features
1. It is of flat shape, uniform color, no mottle, and few holes.
2. The surface is clean and free of oil stains.
3. It is safe, tasteless and hygienic.
4. It is of strong mechanical properties.
5. Its printing effect and lamination effect are both good.
8006 VS 3003&8011 aluminum foil
8006 container fol has high strength and is hot rolled, with uniform internal structure and good elongation. 3003 aluminum foil and 8011 aluminum foil have low strength and are cast rolled.
The elongation and cupping value of 8006 aluminum foil are higher than those of 8011 and 3003 aluminum foil. The tensile strength of 8006 container foil is 10 MPa higher than that of 8011 aluminum foil and slightly lower than that of 3003 aluminum foil.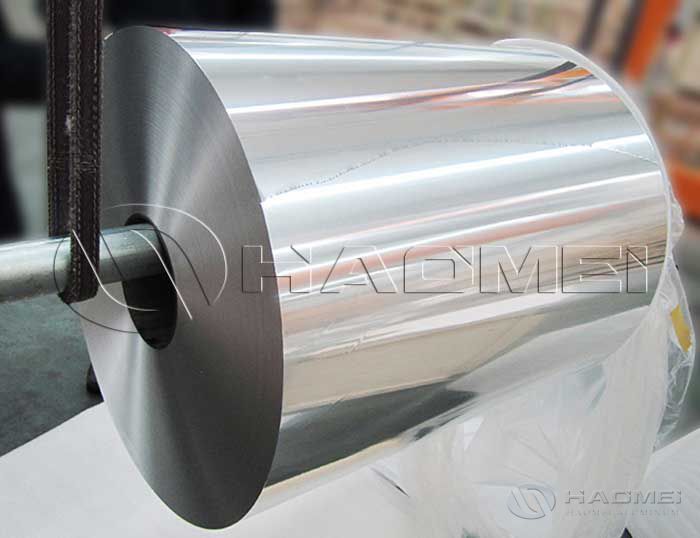 Applications
1. Foil tray: The tensile strength of 8006 aluminium foil can reach 125-135. After stamping, the edge has no wrinkles and has a beautiful appearance. It is widely used in aircraft food container.
2. BBQ aluminum foil: The aluminum foil for barbecue must be food grade and have good sealing performance. The commonly used materials are 8011 aluminum foil and 8006 aluminum foil.
3. Air conditioner aluminum foil: It is mainly used in air conditioning radiators for households, automobiles, high-speed rail and other occasions. The angle of water droplets on the surface of ordinary aluminum foil is above 70 degrees, while the angle of water droplets on the surface of 8006 hydrophilic aluminum foil is below 35 degrees.
Fins with good hydrophilicity can improve the heat exchange efficiency of the air conditioner heat exchanger, significantly saving power consumption, and effectively reducing the distance between the fins of the heat exchanger, thereby reducing the volume of the air conditioner.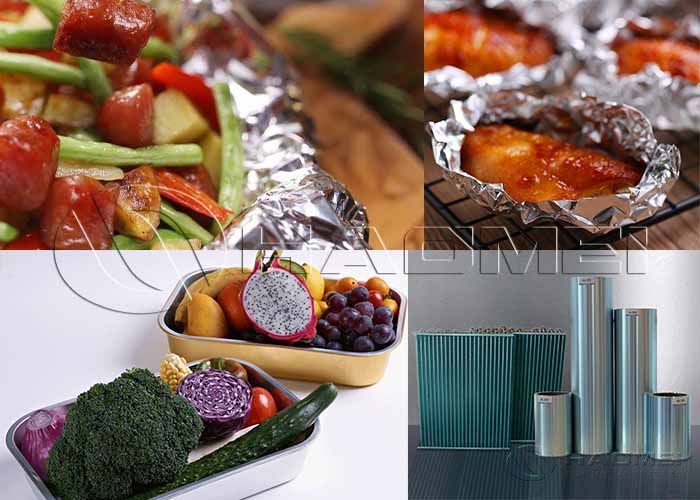 Why choose heavy duty foil for food container
1. In the production process of aluminum foil, a high-temperature annealing and sterilization process is used. Therefore, the aluminum foil can be safely contacted with food and will not contain or help bacterial growth.
2. The aluminum foil paper has good thermal stability. Under the high and low temperature of -20℃-250℃, the molecular structure is stable and unchanged. It can be used at temperatures from quick freezing to extreme baking and grilling, without the foil deforming, cracking or melting.
3. The aluminum foil sheet has good formability. During the stamping process, no cracks and breaks will occur even in the wrinkled and curled parts.
4. It can completely block light, gas and other substances, prolong freshness, protect moisture and maintain the original taste.
Why to choose Haomei Aluminum
Haomei Aluminum has currently has 9 coating production lines, which can produce various specifications of hydrophilic aluminum foil with a thickness of 0.08~0.2mm and a width of 150~1400mm.
The coating production line currently has 3 sets of 1600mm wide coating machines, 6 sets of 1350 mm wide coating machines, 5 sets of slitting machines and 1 oiling machine. We can provide 1100, 3102, 8006, 8011 and other alloys.